Monday, September 3, 2012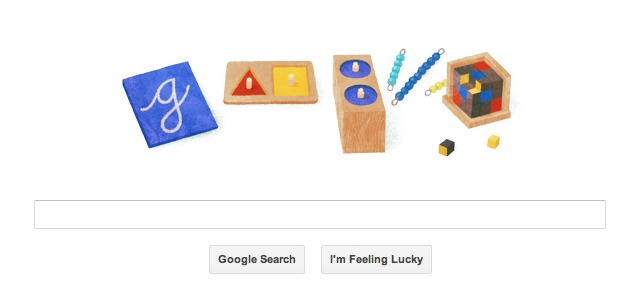 Maria Montessori's birth anniversary marked by Google doodle
NDTV Correspondent
,
August 31, 2012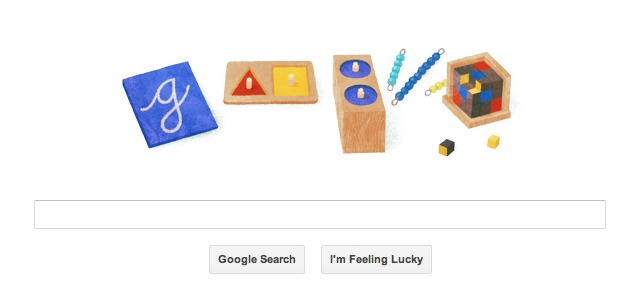 Maria Montessori's 142nd birth anniversary has become the subject of the latest Google doodle. Maria Montessori was an Italian physician and educator, best known for the philosophy of education which bears her name. Her educational methods are in use today in public and private schools throughout the world.
The Google doodle itself represents various tools that form an integral part of Montessori education methods.
Maria Montessori was born on August 31, 1870, in Chiaravalle, Italy. Her family later moved to Rome in 1875, where she was enrolled in a public elementary school when she was 6. Montessori was not a particular brilliant student early on, but that during her teens. She graduated from the technical school Regia Scuola Tecnica Michelangelo Buonarroti at the age of 20 and decided to study medicine further on, which was unheard of for females at the time.
Thursday, July 5, 2012
Contemplate Your Own Death, Save the World
:
A new study says we become more benevolent and forward-looking when we're reminded of our own mortality, and that this should help the green movement.
Simple Electronic Fruit Squeezer Is Repairable, Looks Real Classy
:
A simple fruit squeezer is designed to be fully repairable.
'Tesla' of Electric Motorcycles is Carbon Fiber
:
Norwegian engineering students debut an electric motorcycle made from carbon fiber. They say it will be fast, cheap, and get 100 kilometers to a charge.
Taking Back The Streets: Lamp Post Turns Into Giant Umbrella When It Rains
:
Usually pedestrians are lucky to get a sidewalk; Mikhail Belyaev offers them protection from the elements.
World's Thinnest Display uses a Soap Bubble and Ultrasound
:
We have seen the future of displays, and they look like soap bubbles. Researchers have developed the thinnest display screen in the world from a micro-membrane.
Theorist Peter Higgs lives to see his boson
:
Peter Higgs was no good in the lab, but he never doubted that one day his theory of a powerful subatomic particle that bears his name would be proven right in practice. His surprise was that he lived to see that day.
Most Americans Agree: Conserving Nature is Patriotic
:
Respecting nature isn't just a nicety -- it's at the core of what it means to be a good and dutiful citizen.
Wednesday, July 4, 2012
The Ratio Of PCs To Macs Sold Has Fallen To Levels Not Seen Since The 1990s (Henry Blodget/Business Insider)
:
Henry Blodget /
Business Insider
:
The Ratio Of PCs To Macs Sold Has Fallen To Levels Not Seen Since The 1990s
— Analyst Horace Dediu of Asymco has posted another excellent chart, this one showing the ratio of PCs sold to Macs sold each year since the early 1980s (via Philip Elmer-Dewitt, who notes that the peak year for Microsoft dominance was 2004).